Headlines: Wind chill near -20 this morning…Mainly cloudy today. High minus 4 with a little wind chill later / Gas prices drop more than a cent / The school chocolate milk ban is OVER / Two men from Riverview facing 24 charges after that high speed chase the other night / Turkey Drive Tally: 1885 and they need 4132 by tomorrow night / More salads recalled / Volunteer meeting today for Out of the Cold homeless shelter / Cats drop one to the Screaming Weasels…Be A Fan Bring A Can game food drive game tomorrow night at Avenir Centre
Greater Moncton Weather: (Extended forecast HERE)
Today: Mainly cloudy. High minus 4 with a little wind chill later.
Tonight: Partly cloudy. Low minus 11. Wind chill minus 16 overnight.
Tomorrow: Sun & clouds. A chance of flurries late afternoon. High minus 2. Wind minus 6 in the afternoon.
---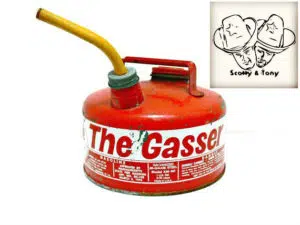 Gas prices are DOWN 1.4¢ this morning to a new maximum of $1.08.8 a litre for regular self serve…diesel is down 2.4¢ and furnace oil dropped 2.7¢! Propane is down too…it dropped a cent to $1.03.
(Get up to date gas prices anytime HERE)
---
The Chocolate Milk Ban at schools in the province has been LIFTED…The new PC government announced yesterday that they are changing policy 711, which dictates that healthier food must be served in schools, to allow chocolate milk and 100% fruit juices back on the menu in cafeterias, fundraisers and breakfast programs.
Our updated school nutrition policy continues to promote food with high nutritional value as the best choice. As part of the new standards, flavoured milk and 100-per cent fruit juice may be sold in schools. Learn more here: https://t.co/IbZQ15YiKG pic.twitter.com/hUeO39fyme

— Government of NB (@Gov_NB) December 5, 2018
---
An update on that high speed police chase from Nova Scotia to Moncton the other night that caused that huge police response at the Highway 2 overpass at Highway 15…the two men arrested were from Riverview…and they had just committed a home invasion in Springhill…
The RCMP allege the men tried to commit a robbery and home invasion in Springhill and then fled from police into New Brunswick. https://t.co/XXnsqWIRqm

— CTV Atlantic (@CTVAtlantic) December 5, 2018
---
Way to go kids! (And the big turkey .@NickMattatall 😉) 👏👏👏👏👏👏👏👏👏👏👏 https://t.co/AZ4pgERWgX

— Hermey & The Bumble (@scottyandtony) December 5, 2018
The annual Sue Stultz / Moncton Firefighters Turkey Drive is happening this week…You can donate around back at the St. George Blvd fire hall…as of last evening the turkey tally was at 1885 and they need 4132 by Friday.
---
More salads recalled… https://t.co/FKwSSop6QI

— Hermey & The Bumble (@scottyandtony) December 5, 2018
The Canadian Food Inspection Agency says an Eat Smart packaged salad has been recalled due to possible Listeria contamination. The agency says the 156-gram Salad Shake Ups _ Sweet Kale variety has a best before date of December 3rd. It says the product should be thrown out or returned to the store where it was purchased.
---
Slow down, move to the left for stopped emergency vehicles https://t.co/sGJHhSad7Q @RCMPNB will be raising the awareness of the importance of moving over and slowing down when approaching a police vehicle stopped on the side of the road with the emergency lights flashing. pic.twitter.com/9OlZmdxhF5

— RCMP New Brunswick (@RCMPNB) December 5, 2018
---
Interested in volunteering at the #Moncton emergency Out of the Cold shelter? A volunteer orientation session will be held this Thursday at 4 pm at First Baptist Church, Queen Street. Details here:https://t.co/f4kHvmyrLn

— YMCA Moncton (@YMCAMONCTON) December 4, 2018
You want to donate to the new #Moncton shelter but you can't go on Friday? No worries! We will do it for you! Drop your items off at Resurgo Place Tuesday-Saturday 10AM-4PM. #Salvus #ReConnect @YMCAMONCTON @SalvusClinic pic.twitter.com/4W0aJkle2S

— Resurgo Place (@resurgoplace) December 5, 2018
---
Highlights of tough 5-4 loss tonight vs. #ScreamingEagles.

We'll look to rebound Friday night vs. Charlottetown.

Get your tickets ➡️ https://t.co/UGXShoqL2M#DefendTheDen pic.twitter.com/O8jARkuXPZ

— Moncton Wildcats (@monctonwildcats) December 6, 2018
The Moncton Wildcats lost 5-4 to Cape Breton last night. Friday night Charlottetown is in town for the annual "Be a fan, bring a can" food drive game at the Avenir Centre…and Sunday afternoon The Wildcats host the Saint John Sea Dogs.
---
'I had the opportunity to give up my jersey. I didn't give it a second thought.' Remarkable story at @HoopIrving – Huge hoop salute to Ben Dool & Ben Mowat for incredible act of sportsmanship with @bmhs_boys – also @MHSVarsitybask1 had an upset – phew https://t.co/3PHuyq7Wnm pic.twitter.com/VRYtCn5dkz

— nbhoopreport (@nbhoopreport) December 6, 2018
---
EDM 3 – STL 2 SO
SJS 5 – CAR 1
ANA 4 – CHI 2https://t.co/NFSYj50hKj pic.twitter.com/sLKOmBbBpe

— NHL (@NHL) December 6, 2018
Get all the scores HERE.