Headlines: Really rainy and windy today & tonight and it'll feel like 26! #ReturnOfTheHumpidex  / Who's the premier? #NBElection2018 / Gas prices going UP? / RCMP looking for home invaders / Wildcats home opener is a SELLOUT! / Mobile Eco Depot in Dieppe today #HouseholdHazardousWaste / Moose Hunt on until Saturday 
Greater Moncton Weather: (Extended forecast HERE)
There's a SPECIAL WEATHER STATEMENT…
Today: Periods of rain. (5 to 10 mm) Winds gusting to 60 km/h this morning. High 20. Humidex 26.
Tonight: Periods of rain. (10 mm) Windy. Low 15.
Tomorrow: A few showers ending in the morning then clearing. High 17.
---
Election aftermath: When there are more questions than answers: https://t.co/CjFot3VoJD pic.twitter.com/FPFLFH0FgZ

— CBC New Brunswick (@CBCNB) September 25, 2018
Premier Brian Gallant met with the lieutenant-governor yesterday where he says he was told he can recall the legislature to try and win the confidence of the house — maybe by getting together with a third party — and remain in power. Gallant says nobody was given a mandate to govern in Monday's provincial election, and also said his Liberals won the popular vote.
Meanwhile…The PC's won 22 seats — one more than the Liberals…and Blaine Higgs says Premier Gallant is just delaying the inevitable by trying to cling to power. He says his P-C's have been given a mandate to govern and he is waiting for recounts in close races before moving forward on a transition of power.
Some political experts are predicting that we could have another election called by Christmas…
---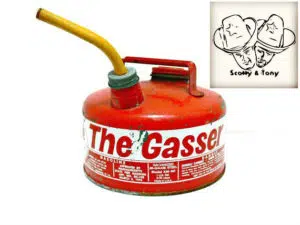 Gas prices are supposed to go UP by about a cent tonight. Experts also say that diesel & furnace oil are heading up a cent. Regular self serve has been selling for just under $1.25 at most places around the city this week.
(Get up to date gas prices anytime HERE)
---
Codiac RCMP seeking three suspects in home invasion #Moncton https://t.co/Xfx2di8w3s

— RCMP New Brunswick (@RCMPNB) September 25, 2018
Codiac RCMP is asking help identifying & locating three suspects in a home invasion at an apartment in Moncton. This happened early Sunday morning…about 1:25 a.m…police responded to a High Street residence following a report of a home invasion and robbery. Investigators believe three men entered the home, assaulted the occupants with a weapon and stole property from the residence. The suspects got away, crossing John Street before travelling towards Dominion Street, that's where they were last seen. The men are described as being between 5'9″ and 6'3″ tall, with medium builds. All three were dressed in dark clothing with masks covering their faces. They spoke English without accents.
Anyone with information about this home invasion and robbery, or who may have seen anyone fitting the description of the suspects in the area at the time of the incident is asked to contact Codiac Regional RCMP at 506-857-2400. Should you wish to remain anonymous, please contact Crime Stoppers toll free at 1-800-222-TIPS (8477), or by Secure Web Tips at www.crimenb.ca.
---
Customers in Atlantic Canada may be experiencing an interruption to their Internet, and Home Phone services. Our maintenance teams are working to bring services back online ASAP. Our apologies for the inconvenience and thank you for your patience.

— RogersHelps (@RogersHelps) September 26, 2018
---
It's official we are sold out for opening night!!! #thankyou #merci Moncton!

Don't forget we also play Sunday at 4pm against the Mooseheads, still tickets left for game two! pic.twitter.com/LZXAJBTrQa

— Moncton Wildcats (@monctonwildcats) September 25, 2018
The Moncton Wildcats have announce that Friday night's home opener at The Avenir Centre is a complete sellout. The crowd of 8,800 will be an all time franchise record for The Cats. The team says there are still tickets left for Sunday afternoon's game against Halifax. (Get tickets HERE)
---
The Mobile Eco-Depot will be at the Operations Centre, 100 Rufin Street between noon and 8 p.m. on September 26 and 27. For a complete list of household waste accepted at the Mobile Eco-Depot, visit https://t.co/0HiqcZy2Bs under the Residential section. pic.twitter.com/1Dk2WDgjzu

— City of Dieppe (@CityofDieppe) September 24, 2018
---
Dover Road will be reduced to one lane of traffic near civic 802, on Wednesday, September 26 and Thursday, September 27 to allow for culvert work. Flaggers will be on site to direct traffic.

— City of Dieppe (@CityofDieppe) September 25, 2018
*Weather permitting (if too rainy today this work gets pushed to Thursday-Friday)
---
The Moose Hunt runs Sept.25 to the 29 in NB. Be prepared, be aware and be safe. Important info here: https://t.co/gnAqsViW7B#Moosehuntsafety pic.twitter.com/XjI1oTkBRa

— Government of NB (@Gov_NB) September 25, 2018
---
Members of @RFDFPrev will be conducting training in Winter Wonderland Park @TownofRiverview during the daytime from Sept. 26-29. Park users may encounter personnel with fire apparatus on those dates. #JustTraining pic.twitter.com/DSh74Xjtld

— scottyandtony (@scottyandtony) September 25, 2018
Members of Riverview Fire & rescue will be conducting training in Winter Wonderland Park during the daytime from Sept. 26-29. Park users may encounter personnel with fire apparatus on those dates. Don't be alarmed, this is a training exercise only and not a threat to public safety.
---
Don't miss the first meeting of the Teen Advisory committee of the school year! On Wednesday September 26, 4PM. For teens aged 11 to 18. pic.twitter.com/3BFZionjrO

— Moncton Library (@MonctonLibrary) September 19, 2018
---
Environment Canada is now saying a total of 6 tornadoes ripped across Ontario and Quebec Friday. In addition to 3 that hit Ottawa area, 3 other tornadoes touched down in Quebec, near Val-des-Bois, Baskatong and Otter Lake.

— CBC News Alerts (@CBCAlerts) September 25, 2018
---
Oakland A's clinch playoffs despite MLB's lowest opening day payroll https://t.co/nIkFgNyYWx

— FOX Business (@FoxBusiness) September 25, 2018
Get all the scores HERE.