Headlines: Mainly sunny today…slightly less hot and muggy than yesterday (but still pretty hot and muggy) / Gas prices going UP more than 3 cents tonight? / 73 year old Pointe-du-Chê​ne man facing charges after police found almost 500 dope plants at his house / Dorchester: "We are looking into hiring professional fireworks people" after chaos at the ballpark / Tired but can't sleep? Try dial-a-story / Tired of Summer and want it to be Fall? But it's not Fall because it's still Summer? Try Scotty & Tony's "Pumpkin Spice Margarita"!
Greater Moncton Weather: (Extended forecast HERE)
Today: Mainly sunny. High 28. Humidex 33.
Tonight: Partly cloudy with a chance of showers overnight. Low 20.
Tomorrow: Cloudy with a chance of showers for the first part of the day then a mix of sun & clouds in the afternoon. Risk of thundershowers early in the afternoon. High 23. Humidex 28.
---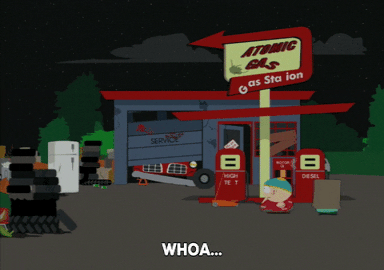 Gas price experts are predicting that prices could increase three cents OR MORE tonight when the EUB resets prices. Regular self serve has been selling for just under $1.25 a litre at some stations this week in Greater Moncton…
(Get up to date gas prices anytime HERE)
---
Mountain Rd, from the Wheeler Blvd on-ramps to Mapleton Rd, will be closed to through traffic from 7 pm on Wednesday, Aug. 29 until 7 am on Thursday, Aug. 30 to install a water main at the intersection of Mountain Rd & Plaza Blvd. Businesses will remain open. #Moncton pic.twitter.com/zRludRSlH4

— City of Moncton (@CityofMoncton) August 28, 2018
---
Found: 24-year-old Moncton woman and her seven-year-old daughter #Moncton https://t.co/qtX14YrvZP

— RCMP New Brunswick (@RCMPNB) August 28, 2018
---
73-year-old man faces pot charge after 485 cannabis plants discovered: https://t.co/DjTedMiIz0 pic.twitter.com/STGyV5h2IQ

— CBC New Brunswick (@CBCNB) August 28, 2018
A 73-year-old Pointe-du-Chê​ne man is facing charges after police discovered 485 cannabis plants at his house. Lawrence Leger appeared in court yesterday to face the charges…back on April 28th police were called to the scene of a house fire in Pointe-du-Chê​ne and that's when they found what they called a "multi-stage marijuana grow operation.". Leger will return to provincial court Sept. 25.
---
— Fireman620🇨🇦 (@firemanhood) August 29, 2018
The Village of Dorchester says that they have launched an internal investigation after a fireworks display went haywire at an event in the community on Saturday night. Crowds were gathered at a ball field Race Track Road for the annual family fun day fireworks display. Part way through the evening's fireworks display, a number of fireworks began shooting off into the crowd and hitting people. First responders had to attend to some minor injuries on site and there were a lot of scared families and kids. Witnesses describe the scene as "utter chaos" and said that everywhere you looked there was "sheer panic". Dorchester Mayor Jerome Bear tells the CBC that they'll be looking into hiring professionals to set off the fireworks in the future.
---
Get all the latest @TheMonctonMagic news w/myself & @firmfound @scottsquires on todays Magic Time Podcast! Chatting about recent signings, trades, our 2018 @NBLCanada draft picks as well as our preseason tour coming up in China! #Hubcity #Roadtothechip🏆 https://t.co/jaSiQoOaMr

— Joseph Salerno (@CoachSalerno1) August 28, 2018
---
Please note that all pools at the Aquatic and Sports Centre will be closed from August 27 to September 3 to allow annual maintenance of the facilities. The reception will be open from August 27 to 31 from 8:30 a.m. to 7 p.m. for payments, reservations and registrations. pic.twitter.com/6fNLzPnadw

— City of Dieppe (@CityofDieppe) August 24, 2018
---
If you're looking for a bedtime story, all you need to do is call the @torontolibrary's Dial-A-Story hotline. 📞 https://t.co/iCL8p4mwiY

— Twitter Moments Canada (@CanadaMoments) August 28, 2018
---
Scotty & Tony's Pumpkin Spiced Margarita recipe…
*When it's almost September but there's a #humpidex
(Get the whole recipe HERE)
---
Rogers wins major league debut, Orioles top Blue Jays 12-5 https://t.co/3TeXHCbc1t pic.twitter.com/YHBBjQITfj

— CP24 (@CP24) August 29, 2018
Get all the scores HERE.