Headlines: Rainy today & tonight…maybe thundershowers…clearing up tomorrow afternoon for a nice weekend! / Gas prices DROP almost 2 cents / Blue Green Algae at Centennial Park…City says keep your pets away from the water / Dole salads recalled #Listeria / Strait lobster season starts today / Ocean Festive Atlantic Seafood Festival kicks off today in Shediac! / Sox beat Jays again…
Greater Moncton Weather: (Extended forecast HERE)
Today: Showers at times heavy beginning this morning. Maybe thundershowers late this morning and this afternoon. 10 mm except 30 mm in the heaviest showers. High 23. Humidex 31.
Tonight: Showers and a risk of thundershowers ending overnight then mainly cloudy. Low 18.
Tomorrow: Mainly cloudy in the morning. Clearing in the afternoon. High 23. Humidex 27.
Saturday & Sunday: Sunny and mid to high 20's!
---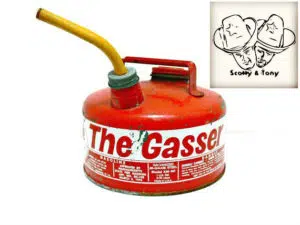 Gas prices dropped 1.9¢ last night. The new maximum for regular self serve is $1.29.5 a litre. Diesel is down 1.4¢ to a new maximum of $1.32.3 a litre. Propane is up 1¢ to $1.04.7.
(Get up to date gas prices anytime HERE)
---
**NOTICE (Blue-green algae)
A precautionary advisory has been issued for the Centennial Park Pond after detecting the presence of blue-green algae along the banks of the pond; therefore, the water is off limits to all recreation activities, and pets must not drink or swim here. pic.twitter.com/BGOi05Bly5

— City of Moncton (@CityofMoncton) August 8, 2018
---
#CFIArecall Food Safety Warning (Listeria) – Dole brand Baby Spinach with Tender Reds https://t.co/gtJihQOMGq

— CFIA – Food (@CFIA_Food) August 8, 2018
Check your fridge: Dole brand Baby Spinach with Tender Reds has been recalled due to concerns over listeria contamination. The recalled product comes in a hard plastic shell packaging with a best before date reading 18-Au-04. No illnesses have been linked to the recalled product; you're urged to throw out any recalled product or to return it to the store where it was purchased.
Here's what it looks like…
---
Lobster season starts on the Northumberland Strait today…officially known as LFA 25 fishing boats are heading out at 6am to fish a zone that runs from around the Amherst Shore off Nova Scotia up to the Miramichi area.#GoodLuck & #GodSpeed!
---
Gauvin Road, between Marché Street and Acadie Avenue, will be completely closed to traffic on Thursday, August 9, between 5 p.m. and 9 p.m. to allow the Summer Fun activity to take place. To find out more about this event, visit https://t.co/Kh9VeJf8D4

— City of Dieppe (@CityofDieppe) August 8, 2018
---
(Click map to enlarge)
The Ocean Festive Atlantic Seafood Festival begins today and happens through Sunday at Parlee Beach Provincial Park in Shediac.
It's a gigantic seafood, wine, beer, & music festival with the largest inflatable play area in the history of New Brunswick!
Ticket info HERE.
There will be a free parking lot close to the site and another one next to the site. Also, a limited number of parking spaces will be reserved for people with disabilities near the entrance.
Shuttle bus info HERE.
Questions about the festival?(Like can I bring a chair? The answer to that is NOPE btw) Organizers have a frequently asked questions page HERE.
---
ICYMI: Anchor @ADebisonCTV chats with Anne Schofield, the mother of New Brunswick teenager Becca Schofield, who will receive the Order of New Brunswick posthumously after her online movement inspired acts of kindness around the globe. #BeccaToldMeTo https://t.co/ObJG9Arist

— CTV Atlantic (@CTVAtlantic) August 8, 2018
---
Can't make it to a daytime #RidetheTide tour? You're in luck! Join the sunset ride on Thurs, Aug. 9 at 6 p.m. Includes (2) Buddha Bear Riverview beer and fresh popcorn on the Fundy Chocolate River Station boardwalk. Tickets: https://t.co/dQnQMnDlpA pic.twitter.com/Cs8rCPKc3g

— Town of Riverview (@TownofRiverview) August 8, 2018
---
Does your child have a Dollarama Skip Ball? Find out more about the #recall and what to do: https://t.co/xSfp5RsAeR pic.twitter.com/YtEVPU0vNM

— GovCanHealth (@GovCanHealth) August 8, 2018
---
Why your canned soup and beer could cost more by the end of August: https://t.co/3O1gZYMrCF

— Huddle (@HuddleToday) August 8, 2018
---
---
The Iowa State Fair opens tomorrow and you can get 82 items on a stick… pic.twitter.com/9y3XXbraNV

— Darren Rovell (@darrenrovell) August 9, 2018
---
Devers homers in return as Red Sox beat Jays 10-5. https://t.co/zS9WUGjUn6 pic.twitter.com/SOh63SnLd8

— Boston.com (@BostonDotCom) August 9, 2018
Get all the scores HERE.