Headlines: Mostly cloudy today. High 23 / Gas prices dropping? Maybe a cent… / St. Pat's Family Centre after 53 years in Moncton / Codiac RCMP looking for missing Moncton teen / Hurricane Chris now a category 2 storm / A bunch of new road work today around Greater Moncton / Jays, Fisher Cats win!
Greater Moncton Weather: (Extended forecast HERE)
Today: Mainly cloudy. High 23. Humidex 26.
Tonight: Clear. Low 11.
Tomorrow: Sunny. High 23.
---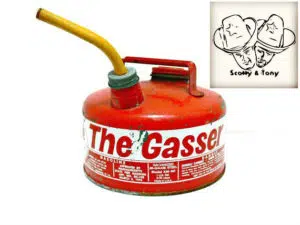 Regular self serve is selling for around $1.28 at some stations around Greater Moncton this week.
(Get up to date gas prices anytime HERE)
---
St. Patrick's Family Centre in Moncton closing: https://t.co/0Bxxu1D3c7 pic.twitter.com/T2jdzQuVPs

— CBC New Brunswick (@CBCNB) July 10, 2018
St Pat's Family Center is closing it's doors. An interim group of volunteers tasked with fundraising for the center made the decision yesterday morning when it became clear there would not be enough money to pay the staff moving forward. The priority right now is finding daycare spaces for displaced families and trying to assist staff as best they can. The center will look at leasing out parking spaces to begin generating revenue while a team is assembled to properly investigate the matter. Spokesperson Brock Gallant says "This isn't the end of the road, just a bump. We are committed to saving this historic institution. Our neighborhood needs St. Pat's more than ever and we won't stop trying to find ways to get the doors opened again."
---
Overnight fire in #NewBrunswick, fire damaged 3-storey house w/ 5 apts 258-264 Robinson St, downtown #Moncton. Our @CanRedCrossNB volunteers have arranged emergency lodging, food, clothing for all. No injuries reported.

— CanRedCrossATL (@CanRedCrossATL) July 11, 2018
---
Missing Person – 14-year-old boy https://t.co/u7bpikGs8S #Moncton pic.twitter.com/WbLIQzZzZT

— RCMP New Brunswick (@RCMPNB) July 10, 2018
---
#HurricaneChris has strengthened to a Category 2 storm pic.twitter.com/2NeG2d8B4Q

— The Weather Network (@weathernetwork) July 11, 2018
---
Dieppe Fire crews made quick work of electrical fire in the 1700 block of Champlain Street late Tuesday evening. The small fire located in a kitchen area of Moncton Flight College caused minimal damage before being quickly extinguished and area ventilated. pic.twitter.com/XHntc52tB2

— Wade Perry (@wadeperry1969) July 11, 2018
---
Road closure on Elmwood Drive between Lewisville Road and Donald Avenue from 5 am until 4 pm on Wednesday, July 11. Info: https://t.co/5JXJyzdaad #Moncton pic.twitter.com/dVeQ83iecJ

— City of Moncton (@CityofMoncton) July 10, 2018
---
There will be a lane reduction on Amirault Street, between Chartersville Road and Frédéric Street, as well as between Melanson Road and Dominique Street, on Wednesday, July 11 to allow for storm sewer system repairs and asphalt work.

— City of Dieppe (@CityofDieppe) July 10, 2018
---
Burning conditions are valid from 2 PM July 10th, to 2 PM July 11th.
All counties are closed for burning. pic.twitter.com/aUGMNfFDlZ

— NB Forest Fires (@NBForestFires) July 10, 2018
---
@Global_NB @explore_nb @CBCNB @Gov_NB @NBHeritage @nbmmnb @CTVAtlantic Come visit our amazing 42nd Annual Quilt Show and Fibre Arts Sale On until Saturday, July 14th A real kaleidoscope of colours! #newbrunswick #quiltshow #explorenb #beautiful https://t.co/8WxX5iPOEt

— Albert County Museum (@AlbertCoMuseum) July 10, 2018
---
Government encourages eye exams for children returning to schoolhttps://t.co/Ejlyesf9eh pic.twitter.com/n2DxaK6SRb

— Government of NB (@Gov_NB) July 10, 2018
---
Health officials say all 12 boys and their coach are in "great spirits" following a gruelling three-day rescue operation in Thailand. #ThaiCaveRescue https://t.co/7cfbAjr3sj

— Twitter Moments Canada (@CanadaMoments) July 11, 2018
---
 Cats get the 3-2 win…
Ironmen Pitchers
LP- Nick Leggett 5IP-3ER-1R-1K
P- JF Neveau 1IP-0ER-1H-1K

FisherCats Pitchers
WP- Justin Cormier 6IP-2ER-4H-3K
S – Jackson Dekker 1IP-0ER-1H-1K

Next Home Game NEXT Sunday against the @FredRoyals at 7pm#FisherCats #NBSBL pic.twitter.com/Xk2hRKfDrI

— MonctonFisherCats (@MonctonFC) July 9, 2018
The Moncton Fisher Cats beat Chatham last night 3-2. Next home game is NEXT Sunday, 7pm against Fredericton.
---
Stroman sharp as Blue Jays knock Braves out of NL East lead https://t.co/T4GklsZHSX @Globe_Sports pic.twitter.com/H7BLOHXnN9

— The Globe and Mail (@globeandmail) July 11, 2018
Get all the scores HERE.