Headlines: Sun & clouds and 28 today…possible HEAT WARNINGS by the long weekend / Gas prices MIGHT drop tonight? / Fredericton's Willie O'Ree makes Hockey Hall #BetterLateThanNever / Mobile Eco Depot in Dieppe this week #HouseholdHazardousWasteDropOff / Lane reductions on Vaughan Harvey today / Anglo East Summer School registration deadline extended / Big junior soccer tournament coming to Moncton! / Majors: Red Sox win, Jays lose…
Greater Moncton Weather: (Extended forecast HERE)
Today: Sun & clouds. A little windy. High 28.
Tonight: Clouding over. Low 15.
Tomorrow: Cloudy. A chance of showers in the afternoon. High 22.
There's a SPECIAL WEATHER STATEMENT about possible high humidity over the next couple of days and into the long weekend…details HERE.
---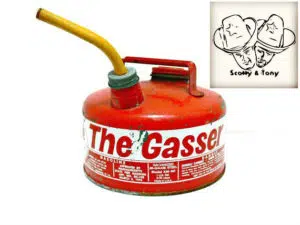 Gas prices MIGHT drop a little tonight…maybe half a cent if they move at all…
Regular self serve has been selling for just under $1.23 at some places in the city this week…
(Get up to date gas prices anytime HERE)
---
"I used to think about Willie's story whenever teachers or hockey parents or coaches would laugh at my dream of making it to the NHL" ~ Wayne Simmondshttps://t.co/0KPYOXu0gP via @playerstribune

— Robert Jones (@cbcjones) June 27, 2018
Fredericton native Willie O'Ree has been chosen for induction into the Hockey Hall of Fame! Willie was the first black player in the NHL…he broke the colour barrier when he played for Boston in 1958. Reached at his home in San Diego the humble O'Ree simply said that he's "tried to be a good ambassador for the sport" and that he's "being rewarded for doing his small part".
---
The Multicultural Association of Greater Moncton continues to do wonderful work in welcoming newcomers to #NewBrunswick, even at great cost to themselves! Thank you to all their staff for making Moncton a great place to be!https://t.co/wDhGhN4jVy

— Nancy Hartling (@SenatorHartling) June 26, 2018
---
Microsurfacing on Vaughan Harvey Blvd between Collishaw St and St. George Blvd beginning on Wednesday, June 27 until Friday, June 29. Lane reductions will be in place for the duration. Info: https://t.co/VUYDZ2Q6Jw #Moncton pic.twitter.com/qOxHM0ih1l

— City of Moncton (@CityofMoncton) June 26, 2018
---
The Mobile Eco-Depot will be at the Operations Centre, 100 Rufin Street between noon and 8 p.m. on June 27 and 28. You can bring household hazardous waste and appliances, furniture, tires, etc. More details at https://t.co/QjRYdftvQ0 pic.twitter.com/U3ADOYlEsp

— City of Dieppe (@CityofDieppe) June 25, 2018
The Eco 360 Mobile Depot will be in Dieppe today and tomorrow collecting your household hazardous waste.
Stuff you can drop off for free (up to a ½ tonne truck and utility trailer load):
– Appliances (limit of 1 of each type per client)
Fridge, stove, freezer, dishwasher, wall oven, water cooler, microwave, water heater, humidifier, dehumidifier, washer, dryer, BBQ, etc.
– Electronic Waste
TVs, computer monitors, hard drives, DVD players, gaming consoles, and anything else that plugs in or requires batteries
– Furniture
Couch, chair, mattress, box spring, dresser, table and chair, etc.
– Small Household Machinery (must be emptied of gas and oil)
Snow blower, lawn mower, whipper snipper, chain saw, etc.
– Construction, Demolition and Renovation Waste
Construction debris such as gypsum board, wood, wood deck, windows, doors, shingles, heat pump, water pump, etc.
– Household Hazardous Waste
Batteries, cooking oil, aerosols, paint, light bulbs, fertilizers, chemicals, CFL bulbs, propane tanks, etc.
Car and truck tires (maximum of 20" diameter)
Brush/Branches and yard waste
Ashes
Glass
Cardboard and paper
Cooking oil
Metal
**No car parts, gas tanks, residential oil tanks, regular curbside waste or commercial waste
More info HERE.
---
Here is the link to information on summer school in ASDE.https://t.co/O7LaCxA4PE https://t.co/O7LaCxA4PE

— Anglophone East (@AnglophoneEast) June 14, 2018
Registration for the 2018 Summer School in Anglo East has been extended until Friday, June 29th. High school students wanting to re-take a course or to upgrade a mark in English, Math, Social Studies, History 11, Chemistry 11 and 12 or Biology 11 and 12 are encouraged to register at Sunny Brae School between 7:30-8:00 a.m. on Wednesday, Thursday or Friday of this week. Registration forms are available on the Anglophone East website or call 871-9861 for more information. https://www.monctonsummerschool.com/
---
Moncton has been selected to host the 2020 Canada Soccer Toyota National Championships U-17 Cup.
Official press release by Canada Soccer: https://canadasoccer.com/six-host-cities-selected-for-canada-soccer-s-toyota-national-championships-p161641&language=en
---
Jackie Bradley Jr. helps Red Sox back David Price in rout of Angels #MLB https://t.co/BawGeqtimT pic.twitter.com/hHhD0h0c04

— Boston Herald Sports (@BosHeraldSports) June 27, 2018
The Moncton Fisher Cats host the Chatham Ironmen tonight at 7:30 at Kiwanis Park.
Get all the scores HERE.