Greater Moncton Weather: (Extended forecast HERE)
Today: Sunny. High 20 (except 14 along parts of the coast)
Tonight: Clear. Low 8.
Tomorrow: Sunny. High 30 (except 22 along parts of the coast) Humidex 32.
---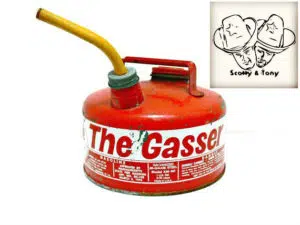 Is it possible we're going to see some relief at the gas pumps tonight? Experts say gas prices might drop a cent tonight after rising 21¢ since February!
Regular self serve has been averaging about $1.32 a litre this week in Greater Moncton.
(Get up to date gas prices anytime HERE)
---
Over 130 tickets issued and 10 vehicles towed following joint traffic operation https://t.co/gjxLJZp3ZP #Bathurst

— RCMP New Brunswick (@RCMPNB) May 29, 2018
You thought the drivers around here were bad…police in northern New Brunswick issued 138 tickets in two days on May 24th & 25th. A CBC report says they issued tickets for distracted driving, not wearing a seat belt and other offences. Seven drivers were arrested, two for driving while prohibited and five for driving with suspended licences. Police also seized drugs, illegal tobacco & alcohol and towed ten vehicles.
---
The City of #Moncton says that Connaught Ave, between Edgett Ave and the Wheeler Blvd off-ramp, will have lane reductions on Wednesday, May 30 & Thursday, May 31, weather permitting. They're doing asphalt milling. https://t.co/BSbjgehXkn .@trafficnb pic.twitter.com/Srj2v4pEo4

— scottyandtony (@scottyandtony) May 29, 2018
---
Nice unexpected quick visit from a few of the @CFSnowbirds this afternoon at #MonctonYQM. Une belle surprise de voir quelques Snowbirds des Forces canadiennes à #Moncton cet après-midi! pic.twitter.com/WERTNqveTQ

— MonctonYQM (@MonctonYQM) May 29, 2018
---
It's the End of the Road for Popular Moncton Food Truck Heavy Kevy's – Huddle Today – https://t.co/gMAjiaWDHN

— Moncton News (@MonctonNBNews) May 30, 2018
---
A parade 20 years in the making: Acadie-Bathurst Titan celebrated in Bathurst: https://t.co/kTBUbRslxr pic.twitter.com/KR6OlT3z0a

— CBC New Brunswick (@CBCNB) May 30, 2018
---
It's the #StanleyCup Final and Bark-Andre Furry just wants to get on the ice and help his @GoldenKnights pic.twitter.com/GQvSOA4ucc

— NHL (@NHL) May 29, 2018
Big League Sports: Vegas & Washington are back at it tonight in game two of the Stanley Cup Finals…The Golden Knights lead the series 1-0 over the Caps.
Russell Martin 2018 player card:

?C
⚪️1B
⚪️2B
?3B
?SS
?LF
⚪️CF
⚪️RF
⚪️DH
⚪️Manager
⚪️Bullpen coach
⚪️Leads the crowd in the "OK BLUE JAYS" dance moves
⚪️Does an inning of PBP while in the dugout
⚪️Personally drives to New Hampshire and brings back Vlad Jr

— Gruber's Mullet (@GrubersMullet) May 28, 2018
The Boston Red Sox have the Toronto Blue Jays number…last night Boston beat Toronto 8-3…that's the 6th win against the Jays in 8 games this season for the Sox. But it's not just Toronto that Boston is beating….The Red Sox have the best record in the major leagues at 38-and-17 and their best record through 55 games since 2002. Only about 100 games left in the season.
Get all the scores HERE.