Greater Moncton Weather: (Extended forecast HERE)
Today: Mainly sunny to start…then some clouds moving in…A chance of showers late this afternoon. High 19.
Tonight: A few showers overnight. Low 8.
Tomorrow: Showers ending in the morning then clearing up. Windy. High 12.
---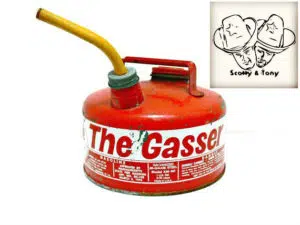 Gas prices are down two tenths of a cent this morning to a new maximum of $1.30.9 for regular self serve.
Diesel and furnace oil are both up four tenths of a cent and propane is up more than 3.5¢ to a new max of $1.05.6. (Get up to date gas prices anytime HERE)
---
Moncton's Mayor announces the city's 2020 bid to host the Brier. @Global_NB pic.twitter.com/DsQb1GoPak

— Morganne Campbell (@Morganne_C) May 9, 2018
The City of Moncton has announced that it's putting in a bid for the 2020 Brier Men's National Curling Championship. Earlier this year Moncton lost out on the 2019 Brier to Brandon, Manitoba…
---
Trans Canada still closed between #Moncton & #Fredericton…officials say maybe partly open by the weekend? https://t.co/RVhvtWRFSD pic.twitter.com/NYDPbZl6SK

— scottyandtony (@scottyandtony) May 10, 2018
Officials are hoping the Trans-Canada Highway between Moncton & Fredericton could partially reopen for the weekend. Maybe one lane in each direction? Crews are working to clear large amounts of debris that have been scattered across the highway. Get the latest travel updates at NewCountry969.ca/SummerLinks.
Meanwhile…even though the water is dropping…The EMO says it could be days or even weeks before some residents can return home. E-M-O director, Greg MacCallum says he realizes evacuees are tired and frustrated but if they go back to their homes before the time is right it will just make the situation worse. The agency has also warned residents not to drink water from private wells until they have been tested.
---
All counties are closed for burning pic.twitter.com/uJyNVZPIFL

— NB Forest Fires (@NBForestFires) May 9, 2018
Hard to believe with all of the flooding but there is a complete fire ban province wide right now. No campfires, no firepits…no burning. Get daily burning updates HERE. Metro Moncton fire crews had to respond to another brush fire last night…this time off of Fraser Avenue…the night before they had to put one out near the Gunningsville Bridge off of Vaughan Harvey and Assomption.
Fire crew with Engine 5 #Moncton Fire make quick work of brush fire on Fraser Avenue in #Moncton this evening. Afterwards, the crew took the time to meet and chat with some neighbourhood kids.
Future firefighters perhaps. pic.twitter.com/QbTBK43DPL

— Wade Perry (@wadeperry1969) May 9, 2018
---
How did the Alert Ready thing go for you last night? (Five cell phones in our house…one of us got a text and none of the phones made a peep. >T)  Some people on our social media say the same…some say their phone blared so loud that it almost made them go off the road…and some other people say they got multiple alerts. (Maybe they got the rest of ours?) Alert Ready officials say they are working to resolve "glitches in the system"…
---
---
---
Reminder: Riverview's bulk waste collection does not include household hazardous waste (batteries, cooking oil, aerosols, paint, light bulbs, etc.) but you can safely dispose of these items with @Eco360_SE. Details: https://t.co/IzkrEtGl4Y pic.twitter.com/t4l1bM3KkZ

— Town of Riverview (@TownofRiverview) May 5, 2018
Riverview's Bonanza of Free Junk (Spring Cleanup) happens May 14-17.
Ditch your junk furniture, appliances, electronics, yard waste, more!
Not tires though. Tires will not be collected. Make tire swings with them maybe?
PLEASE CONSIDER DONATING your old furniture if it's still in good shape (EnviroPlus: 506-853-7722, Habitat for Humanity ReStore 506-384-4664)
BTW, the usual Junk Rules apply (not too heavy, branches bundled, no batteries, no paint, no light bulbs, no propane tanks, etc.)
---
The Curbside treasures pickup is back! Take part in this event on Saturday, May 12, between 8 a.m. and 6 p.m. and create some space at home or find a treasure. At the same time, you'll be doing something to help protect the environment. Details at https://t.co/DYYsSGn1Wf pic.twitter.com/8azeRbYyfX

— City of Dieppe (@CityofDieppe) May 4, 2018
Dieppe's annual Someone Else's Junk Day is Saturday (May 12… or rain date Sun May 13) from 8:00a- 6:00p.
Refresher in case you forget how this works:
1) Put your cool junk out by the curb.
2) People take your cool junk.
3) You go visit other people's cool junk and take IT home.
4) Celebrate that you helped make Planet Earth a better place.
More info on the Scotty & Tony Page!
---
#QPlayoffs | Playing a second game in as many nights, the @ArmadaBLB managed to tie up its 2018 @Rogers #PresidentCup Final series with the @ABTitan at 2-2 following a 5-1 win on Wednesday night.

READ THE GAME SUMMARY: https://t.co/vKxBfFzFID pic.twitter.com/ce5AbZlwIe

— QMJHL (@QMJHL) May 10, 2018
In the Q: The Presidents Cup final is all tied up 2-2 after Blainville-Boisbriand beat Bathurst 5-1 last night. Game 5 is Friday night at 8 p.m AT in Quebec.
Big League Sports: NHL Playoffs…Winnipeg plays game seven of their series at Nashville tonight…the winner moves on to play Las Vegas in the Western Conference Final. Tampa hosts Washington in game 1 of the Eastern Conference finals tomorrow night. MLB…Toronto rallied for a 5-2 win over the Seattle Mariners. The Yankees beat the Red Sox 9-6.
Get all the scores HERE.