*There's a FREEZING RAIN WARNING in effect*
Today: A chance of showers for most of the day…Ice pellets or rain beginning late this afternoon as the temperature falls to minus 3.
Tonight: Ice pellets changing to freezing rain this evening. Temperature rising to plus 3 by morning.
Tomorrow: Freezing rain changing to rain showers ending near noon then sun & clouds. High 14.
Patchy precip today. Untreated surfaces icy with more widespread wintry mix N & E tonight & Wed am (see pics). Quite warm Wed pm: at least mid teens inland! pic.twitter.com/3eK1lw3xaY

— Jim Abraham (@YHZweatherguy) February 20, 2018
---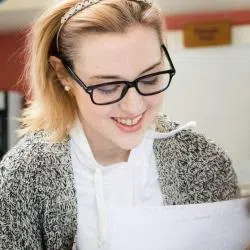 Scotty & Tony:
Sunday morning we all woke up to the news that Rebecca Schofield had passed away Saturday night at the Moncton Hospital. The Riverview teenager, who touched all of us, and millions of others with her #BeccaToldMeTo kindness campaign, had been battling brain cancer for three years. When doctors told her in December of 2016 that she only had 3-12 months to live…she decided that she wanted to to leave the world a better place…that she wanted people to be kind to each other…and so…#BeccaToldMeTo. It was pretty simple. Do something nice…then tell people on social media what you did…and maybe that would inspire them to do something nice too. It worked. Riverview Mayor Ann Seamans says that those posts reminded all of us that being kind is a choice we make each day and that we should honour her legacy by continuing to make the world a better place, one act of kindness at a time.
Becca's Family will be receiving relatives and friends at St. Paul's United Church, 404 Cleveland Ave. Riverview today from 1:30 – 4:00 PM and from 6:00 – 9:00 PM, An Ecumenical Service celebrating her life will take place tomorrow, (February 21, 2018) at 11:00 from The Immaculate Heart of Mary Catholic Church, Fatima Drive, Riverview. There will be overflow seating in the church hall (The Father Dan Bohan Center).
In lieu of flowers, the family would appreciate donations to the National Kids Cancer Ride, Ronald McDonald House Charities Atlantic,  Friends of the Moncton Hospital (Pediatrics Unit), the IWK, or the charity of your choice.
If you'd like to pass along your condolences to the family CLICK HERE.
---
We did it T! #olympicchampions #pyeongchang2018 #virtuemoir pic.twitter.com/qHvTClsh7r

— Scott Moir (@ScottMoir) February 20, 2018
At the Winter Olympics in Pyeongchang, South Korea…
Canada has won three gold medals in the last 24 hours! The titles came in two man bobsleigh, women's ski halfpipe and ice dancing, where Tessa Virtue and Scott Moir have become the most decorated Olympic figure skaters ever. Canada is sitting in 3rd place with 19 medals…8 gold, 5 silver and 6 bronze.
Go @TeamCanada!!@CassieSharpe is a legend — makin' it look easy. And thank you @tessavirtue & @ScottMoir for agreeing to raise my children as your own.??

— Ryan Reynolds (@VancityReynolds) February 20, 2018
Click HERE for Scotty & Tony's Olympic Corner.