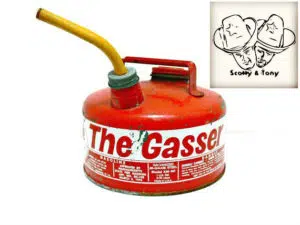 Gas prices are down 5.3 cents this morning!
The new maximum for regular self serve is $1.14.3.
Diesel & furnace oil are also down more than 5 cents!
Check out the latest gas prices anytime HERE.
---
Somebody bought a lotto ticket in Richibucto worth $100,000!
Check your tickets HERE.
---
There's money out there somewhere: New car/SUV/pickup sales hit a record $1.72 billion in NB in 2017. 44,822 vehicles sold – at an average $38,388 each. pic.twitter.com/3ohZ4CsBXf

— Robert Jones (@cbcjones) February 14, 2018
New vehicle sales hit a record $1.72 billion in NB in 2017. 44,822 car/SUV/pickup were sold in the province…the average price? $38,388!
---
#Florida ❤️??? https://t.co/MJjV5O76gy

— scottyandtony (@scottyandtony) February 15, 2018
Prime Minister Justin Trudeau has tweeted his condolences to those grieving after a school shooting yesterday in Parkland, Florida. Trudeau said "Canadians have you in our hearts."The Broward County sheriff says a young gunman opened fire with a semi-automatic weapon shooting nearly three-dozen people, killing at least 17.
---
Next Game vs. #Mooseheads. | Prochain Match contre @HFXMooseheads.

? – Friday | Vendredi
⏰ – 7PM | 19H
?- Scotiabank Centre#GOCATSGO

— Moncton Wildcats (@monctonwildcats) February 15, 2018
The Moncton Wildcats lost 5-1 to Bathurst last night at the Coliseum. The Cats are in the road in Halifax tomorrow night.
---
Olympic dream comes true for @mhjd_85 and @Rad85E https://t.co/FYyAauxuy6 pic.twitter.com/hIt5D7Oqya

— CBC Olympics (@CBCOlympics) February 15, 2018
It's Day 6 at the Winter Olympics in Pyeongchang, South Korea.
Figure skaters Meagan Duhamel and Eric Radford have won an Olympic bronze medal for Canada. That's the first pairs medal in figure skating since the 2002 games in Salt Lake City!
Olympic champion Ted-Jan Bloemen wins gold in men's 10,000m #speedskating at #PyeongChang2018

? @TedJan | @SSC_PVC | #Teamcanada

Read more ? https://t.co/eVrTVvOK2U pic.twitter.com/JGXEsRWvB5

— Team Canada (@TeamCanada) February 15, 2018
Ted-Jan Bloemen won GOLD for Canada in the 10,000 metre speedskating event…he set an Olympic record…he was born in the Netherlands but moved to Calgary almost four years ago and started racing for Canada….his dad was born in Bathurst!
Meghan Agosta on #TeamCanada's chemistry#BelieveWeCAN #PyeongChang2018 pic.twitter.com/eJlOEToOxG

— Team Canada Women (@HC_Women) February 15, 2018
Our women's hockey team wrapped up the opening round with a 2-1 win over the US…but the Americans outshot us 45-23. Both teams advance to the semifinals on Monday.
Click HERE for Scotty & Tony's Olympic Corner!
---
Head coach Mike Babcock addresses the media following Toronto's 6-3 win against Columbus on Wednesday night.

?: https://t.co/lu7qxvP3hO#TMLtalk pic.twitter.com/lMCKgV0KnX

— Toronto Maple Leafs (@MapleLeafs) February 15, 2018
In the NHL: Toronto beat Columbus 6-3…Montreal and Vancouver both lost…
Get all the scores HERE.